Optimizing workflows in RStudio
Most researchers in the language science are familiar to R to some extend. However, while workshops on how to perform particular tasks in R, such as how to do statistical analyses in R, are becoming more widespread, there rarely exist any workshops on how to work in R.

By working in R, I am referring to issues relating to reproducible and effective work flows and session management but also to formatting conventions for R code. The following sections will provide some guidance on how to optimize your work flows and how to make your research practices more transparent, efficient, and reproducible.
Rproj
If you're using RStudio, you have the option of creating a new R project. A project is simply a working directory designated with a .RProj file. When you open a project (using File/Open Project in RStudio or by double–clicking on the .RProj file outside of R), the working directory will automatically be set to the directory that the .RProj file is located in.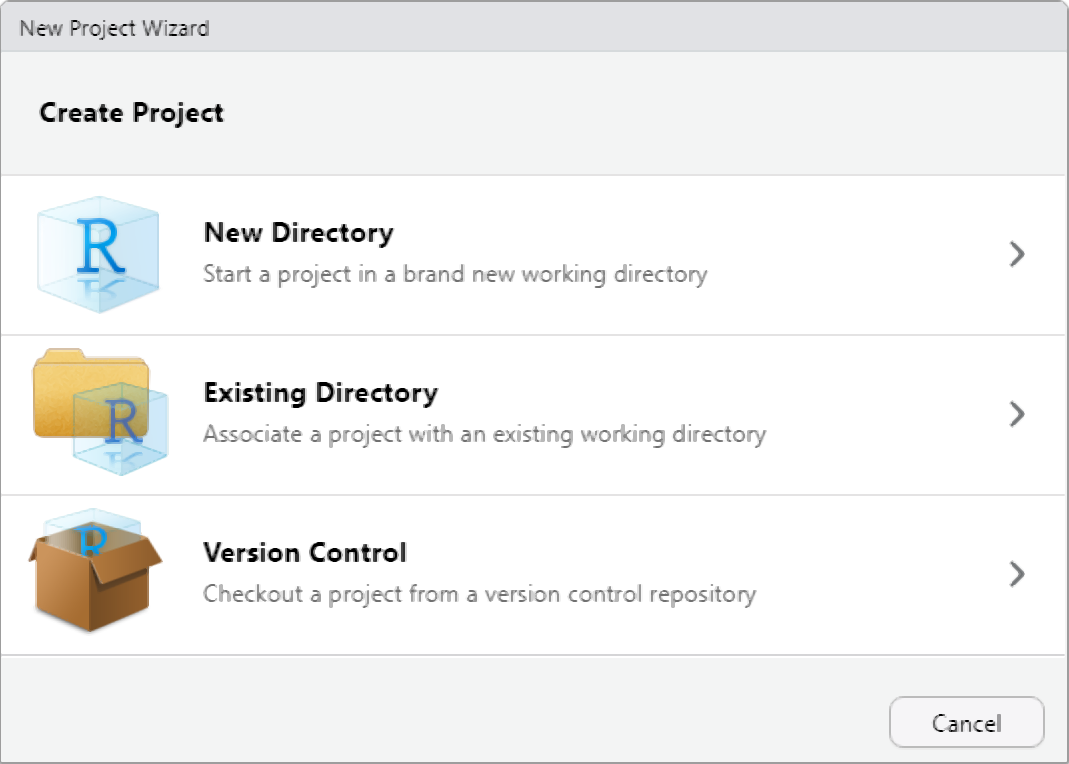 I recommend creating a new R Project whenever you are starting a new research project. Once you've created a new R project, you should immediately create folders in the directory which will contain your R code, data files, notes, and other material relevant to your project (you can do this outside of R on your computer, or in the Files window of RStudio). For example, you could create a folder called R that contains all of your R code, a folder called data that contains all your data (etc.).
Before working with Rprojects, I set my working directories with setwd() but this is not optimal because it takes an absolute file path as an input then sets it as the current working directory of the R process. However, this makes scripts break easily and it makes it more difficult to share my analyses and projects with others. Hence, the setwd() approach makes it very difficult to share work and make it transparent and reproducible.
Folder structure
Like with all (project) folders, it is recommendable to use a common folder structure as to make it easier to find information or particular files.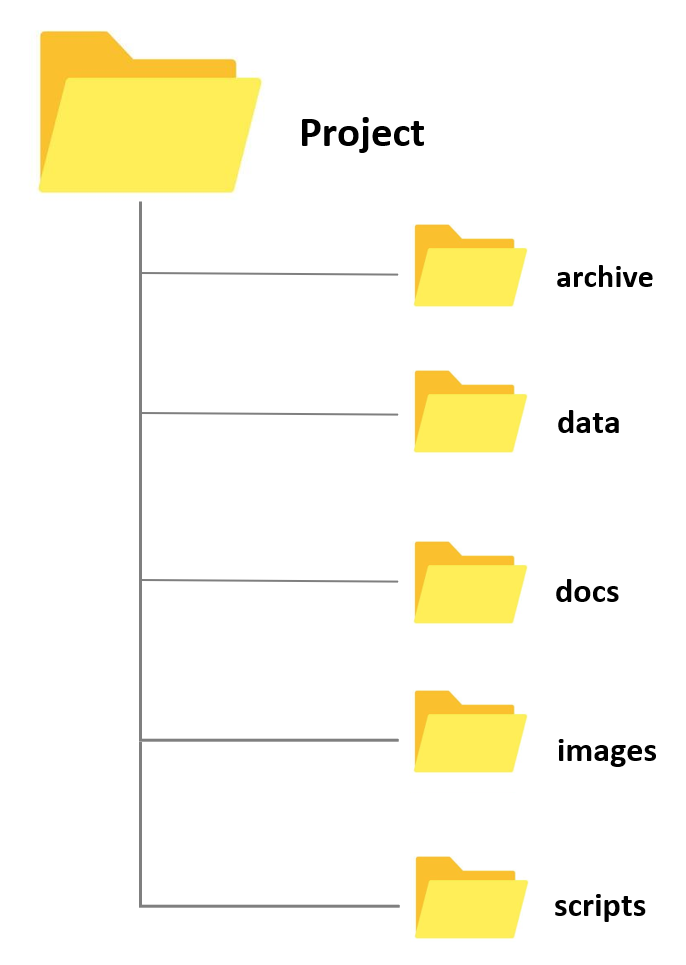 Solving dependency issues: renv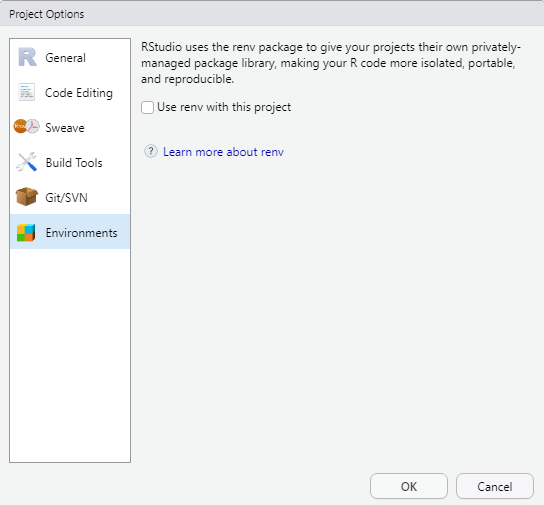 The renv package is a new way to make Rprojects independent and thus to remove outside dependencies from Rprojects. The renv package creates a new library within your project so that your Rproject is independent of your personal library and when you share your project, you automatically also share the packages that you have used. The idea behind renv is to be a robust, stable replacement for the packrat package which was rather unsatisfactory to work with (speaking from experience here).
I have used renv and, while it took some time to generate the local library on first use, it was very easy to use, did not cause any issues and is overall very recommendable to get rid of outside dependencies and thus make Rprojects easier to share for transparency and reproducibility.
Underlying the philosophy of renv is that all existing work flows should just work as they did before – renv helps to isolate your project's R dependencies (like package versioning).
You can get more information about renv and how it works, as well as how you can use it here.
Version Control with Git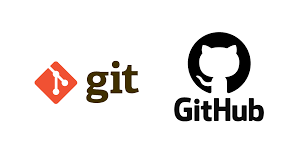 Getting started with Git
To connect your Rproject with GitHub, you need to have Git installed (if you have not yet downloaded and installed Git, simply search for download git in your favorite search engine and follow the instructions) and you need to have a GitHub account. If you do not have a GitHub account, here is a video tutorial showing how you can do this. If you have trouble with this, you can also check out Happy Git and GitHub for the useR at happygitwithr.com.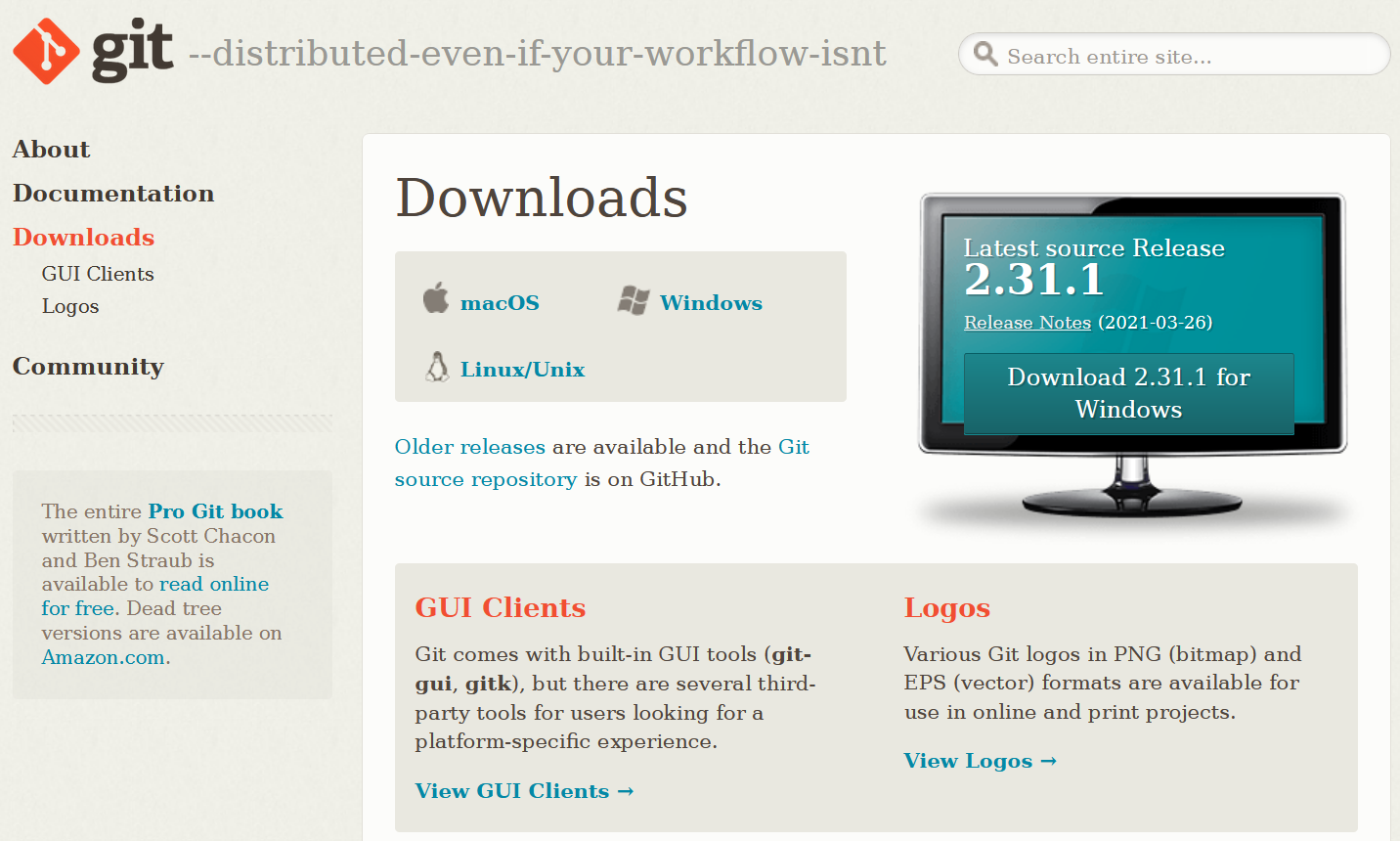 Just as a word of warning: when I set up my connection to Git and GitHUb things worked very differently, so things may be a bit different on your machine. In any case, I highly recommend this YouTube tutorial which shows how to connect to Git and GitHub using the usethis package or this, slightly older, YouTube tutorial on how to get going with Git and GitHub when working with RStudio.
Old school
While many people use the usethis package to connect RStudio to GitHub, I still use a somewhat old school way to connect my projects with GitHub. I have decided to show you how to connect RStudio to GitHub using this method, as I actually think it is easier once you have installed Git and created a gitHub account.
Before you can use Git with R, you need to tell RStudio that you want to use Git. To do this, go to Tools, then Global Options and then to Git/SVN and make sure that the box labeled Enable version control interface for RStudio projects. is checked. You need to then browse to the Git executable file (for Window's users this is called the Git.exe file).

Now, we can connect our project to Git (not to GitHub yet). To do this, go to Tools, then to Project Options... and in the Git/SVN tab, change Version Control System to Git (from None). Once you have accepted these changes, a new tab called Git appears in the upper right pane of RStudio (you may need to / be asked to restart RStudio at this point). You can now commit files and changes in files to Git.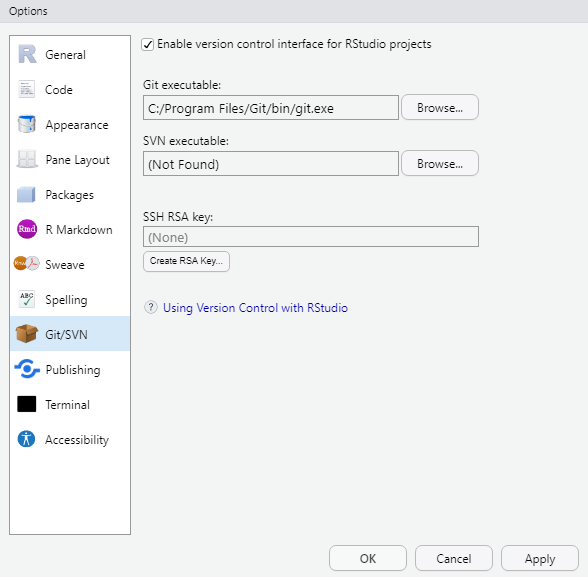 To commit files, go to the Git tab and check the boxes next to the files you would like to commit (this is called staging; meaning that these files are now ready to be committed). Then, click on Commit and enter a message in the pop-up window that appears. Finally, click on the commit button under the message window.
Connecting your Rproj with GitHub
To connect your Rproject and GitHub, we go to our GitHub page and create a new GitHub repository (repo) that we call test (or whatever you want to call your repository). To create a new repository on GitHub, simply click on New Repository after you have clicked on the New icon. I recommend that you check Add a Readme in which you can describe what the repo contains, but you do not have to do this.
Once you have created a new GitHub repo, we need to connect this repo to our computer. To do this, we need to clone the repo which we do by clicking on the green Code icon. When you click on the green Code icon, a dropdown menu appears and you copy the url in the section clone with HTTPS.
Then, we go to the Terminal (in-between Console and Jobs) and we include the path we got from the git repository after the command git remote add origin. We then use the command git branch -M main (to merge a master and a main branch) and then, finally, push our files into the remote GitHub repo by using the command git push -u origin main.
# initiate the upstream tracking of the project on the GitHub repo
git remote add origin https://github.com/YourGitHUbUserName/YouGitHubRepositoryName.git
# set main as main branch (rather than master)
git branch -M main
# push content to main
git push -u origin main
We can then commit changes and push them to the remote GitHub repo.
You can then go to your GitHub repo and check if the documents that we pushed are now in the remote repo.
From now on, you can simply commit all changes that you make to the GitHub repo associated with that Rproject. Other projects can, of course, be connected and push to other GitHub repos.
Solving path issues: here
The goal of the here package is to enable easy file referencing in project-oriented workflows. In contrast to using setwd(), which is fragile and dependent on the way you organize your files, here uses the top-level directory of a project to easily build paths to files.
This makes your projects more robust as the paths will still work if you put your project into another location or on another computer. Also, moving between Mac and Windows (which would require different kind of path specifications) is no longer an issue with the here package.
# define path
example_path_full <- "D:\\Uni\\Konferenzen\\ISLE\\ISLE_2021\\isle6_reprows/repro.Rmd"
# show path
example_path_full
## [1] "D:\\Uni\\Konferenzen\\ISLE\\ISLE_2021\\isle6_reprows/repro.Rmd"
With the here package, the path starts in folder where the Rproj file is. As the Rmd file is in the same folder, we only need to specify the Rmd file and the here package will add the rest.
# load package
library(here)
# define path using here
example_path_here <- here::here("repro.Rmd")
#show path
example_path_here
## [1] "/home/sam/programming/SLCLADAL.github.io/repro.Rmd"
Reproducible randomness: set.seed
The set.seed function in R sets the seed of R's random number generator, which is useful for creating simulations or random objects that can be reproduced. This means that when you call a function that uses some form of randomness (e.g. when using random forests), using the set.seed function allows you to replicate results.
Below is an example of what I mean. First, we generate a random sample from a vector.
numbers <- 1:10
randomnumbers1 <- sample(numbers, 10)
randomnumbers1
##  [1]  7  6  5 10  3  9  8  2  1  4
We now draw another random sample using the same sample call.
randomnumbers2 <- sample(numbers, 10)
randomnumbers2
##  [1] 10  6  2  3  5  8  1  4  9  7
As you can see, we now have a different string of numbers although we used the same call. However, when we set the seed and then generate a string of numbers as show below, we create a reproducible random sample.
set.seed(123)
randomnumbers3 <- sample(numbers, 10)
randomnumbers3
##  [1]  3 10  2  8  6  9  1  7  5  4
To show that we can reproduce this sample, we call the same seed and then generate another random sample which will be the same as the previous one because we have set the seed.
set.seed(123)
randomnumbers4 <- sample(numbers, 10)
randomnumbers4
##  [1]  3 10  2  8  6  9  1  7  5  4
R Markdown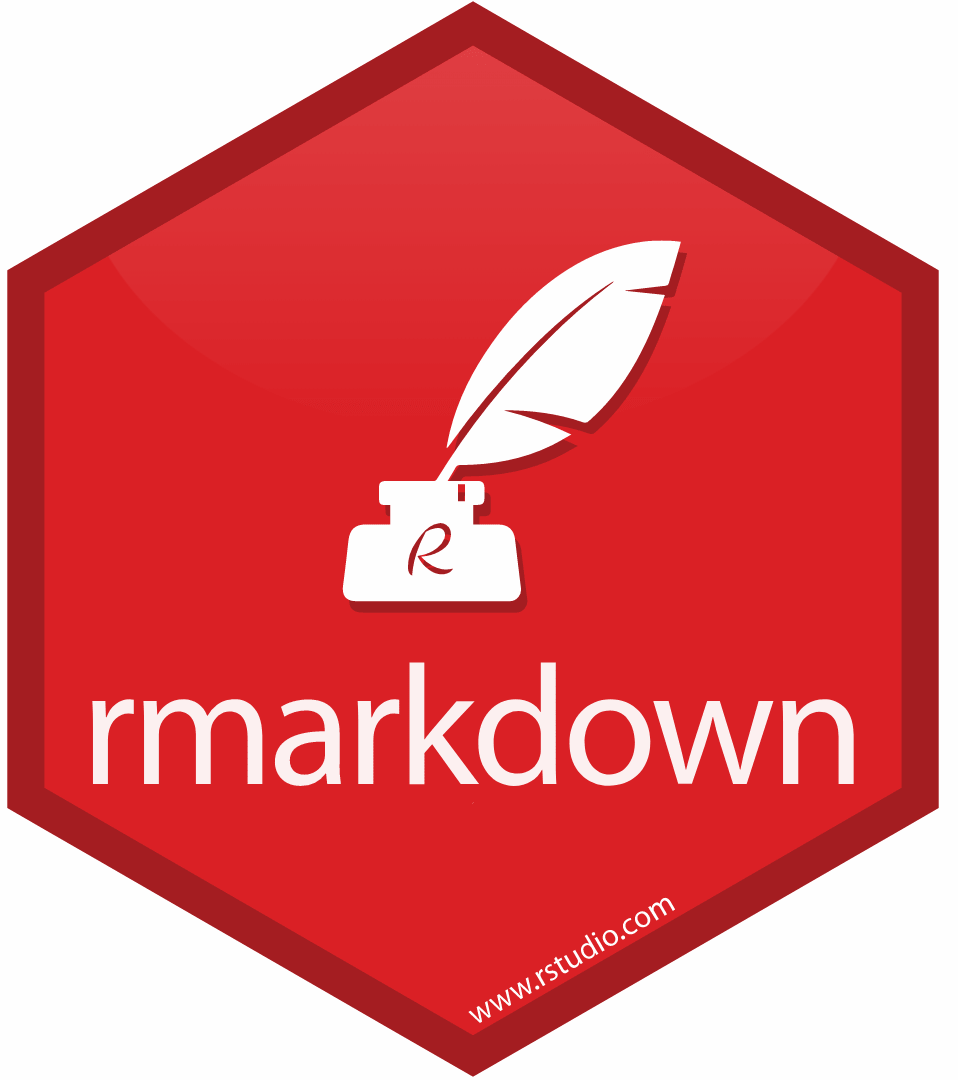 R Markdown provides an authoring framework for data science. You can use a single R Markdown file to both
R Markdown documents are fully reproducible and support dozens of static and dynamic output formats. This 1-minute video provides a quick tour of what's possible with R Markdown:
Check out this introduction to R Markdown by RStudio and have a look at this R Markdown cheat sheet.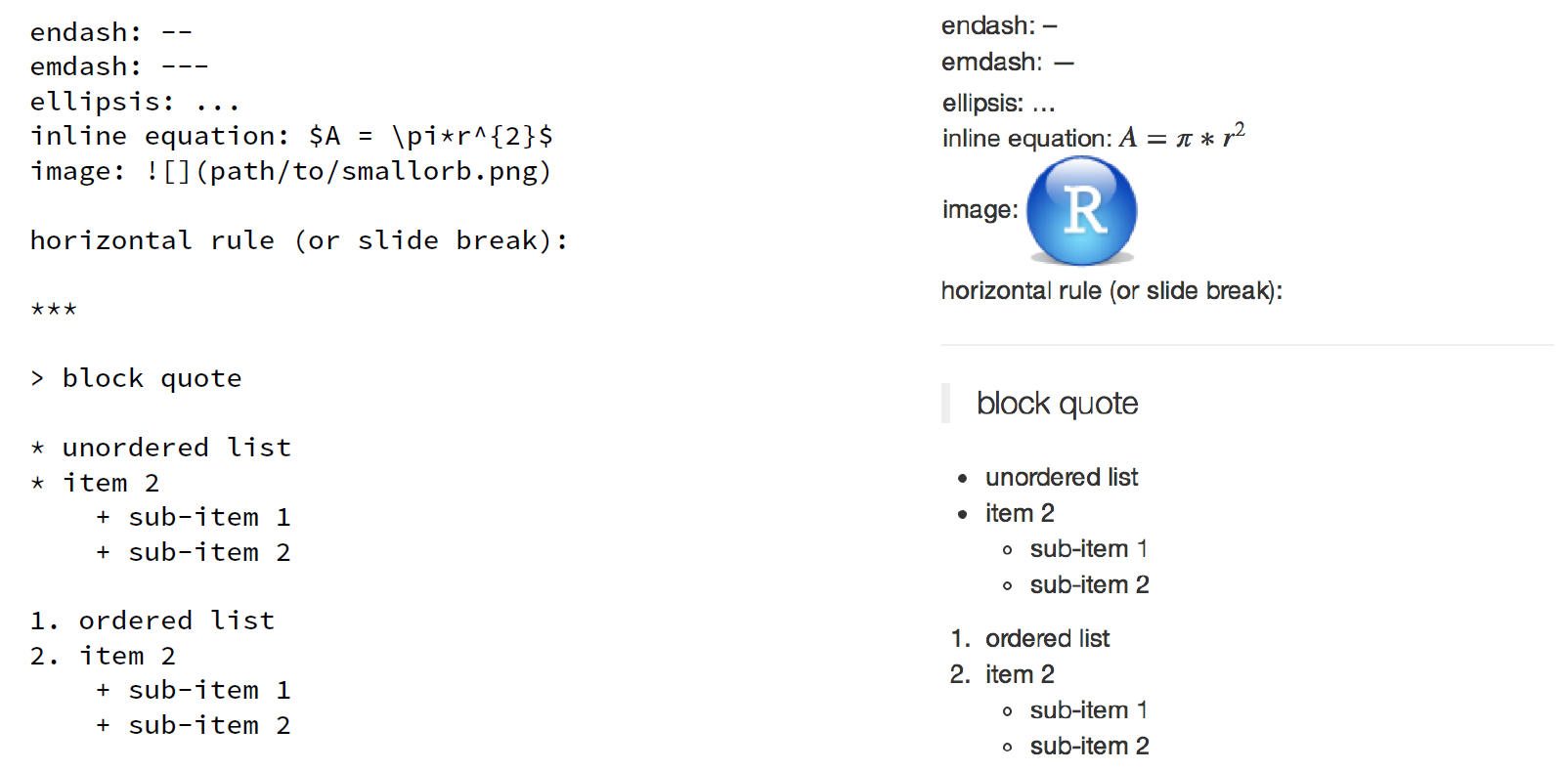 Tidy data principles
The same (underlying) data can be represented in multiple ways. The following three tables are show the same data but in different ways.
Table 1.

| country | continent | 2002 | 2007 |
| --- | --- | --- | --- |
| Afghanistan | Asia | 42.129 | 43.828 |
| Australia | Oceania | 80.370 | 81.235 |
| China | Asia | 72.028 | 72.961 |
| Germany | Europe | 78.670 | 79.406 |
| Tanzania | Africa | 49.651 | 52.517 |
Table 2.

| year | Afghanistan (Asia) | Australia (Oceania) | China (Asia) | Germany (Europe) | Tanzania (Africa) |
| --- | --- | --- | --- | --- | --- |
| 2002 | 42.129 | 80.370 | 72.028 | 78.670 | 49.651 |
| 2007 | 43.828 | 81.235 | 72.961 | 79.406 | 52.517 |
Table 3.

| country | year | continent | lifeExp |
| --- | --- | --- | --- |
| Afghanistan | 2002 | Asia | 42.129 |
| Afghanistan | 2007 | Asia | 43.828 |
| Australia | 2002 | Oceania | 80.370 |
| Australia | 2007 | Oceania | 81.235 |
| China | 2002 | Asia | 72.028 |
| China | 2007 | Asia | 72.961 |
| Germany | 2002 | Europe | 78.670 |
| Germany | 2007 | Europe | 79.406 |
| Tanzania | 2002 | Africa | 49.651 |
| Tanzania | 2007 | Africa | 52.517 |
Table 3 should be the easiest to parse and understand. This is so because only Table 3 is tidy. Unfortunately, however, most data that you will encounter will be untidy. There are two main reasons:
Most people aren't familiar with the principles of tidy data, and it's hard to derive them yourself unless you spend a lot of time working with data.

Data is often organised to facilitate some use other than analysis. For example, data is often organised to make entry as easy as possible.
This means that for most real analyses, you'll need to do some tidying. The first step is always to figure out what the variables and observations are. Sometimes this is easy; other times you'll need to consult with the people who originally generated the data. The second step is to resolve one of two common problems:
One variable might be spread across multiple columns.

One observation might be scattered across multiple rows.
To avoid structuring in ways that make it harder to parse, there are three interrelated principles which make a data set tidy:
Each variable must have its own column.

Each observation must have its own row.

Each value must have its own cell.
An additional advantage of tidy data is that is can be transformed more easily into any other format when needed.
How to minimize storage space
Most people use or rely on data that comes in spreadsheets and use software such as Microsoft Excel or OpenOffice Calc. However, spreadsheets produced by these software applications take up a lot of storage space.
One way to minimize the space, that your data takes up, is to copy the data and paste it into a simple editor or txt-file. The good thing about txt files is that they take up only very little space and they can be viewed easily so that you can open the file to see what the data looks like. You could then delete the spread sheet because you can copy and paste the content of the txt file right back into a spread sheet when you need it.
If you work with R, you may also consider to save your data as .rda files which is a very efficient way to save and story data in an R environment
Below is an example for how you can load, process, and save your data as .rda in RStudio.
# load data
lmm <- read.delim("https://slcladal.github.io/data/lmmdata.txt", header = TRUE)
# convert strings to factors
lmm <- lmm %>%
  mutate(Genre = factor(Genre),
         Text = factor(Text),
         Region = factor(Region))
# save data
base::saveRDS(lmm, file = here::here("data", "lmm_out.rda"))
# remove lmm object
rm(lmm)
# load .rda data
lmm  <- base::readRDS(file = here::here("data", "lmm_out.rda"))
# or from web
lmm  <- base::readRDS(url("https://slcladal.github.io/data/lmm.rda", "rb"))
# inspect data
str(lmm)
## 'data.frame':    537 obs. of  5 variables:
##  $ Date        : int  1736 1711 1808 1878 1743 1908 1906 1897 1785 1776 ...
##  $ Genre       : Factor w/ 16 levels "Bible","Biography",..: 13 4 10 4 4 4 3 9 9 3 ...
##  $ Text        : Factor w/ 271 levels "abott","albin",..: 2 6 12 16 17 20 20 24 26 27 ...
##  $ Prepositions: num  166 140 131 151 146 ...
##  $ Region      : Factor w/ 2 levels "North","South": 1 1 1 1 1 1 1 1 1 1 ...
To compare, the lmmdata.txt requires 19.2KB while the lmmdata.rda only requires 5.2KB (and only 4.1KB with xz compression). If stored as an Excel spreadsheet, the same file requires 28.6KB.